Shower Screens Gold Coast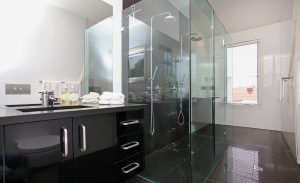 Southern Cross now supply and install shower screens on the Gold Coast.  There are three options to select from for your bathroom renovation so we can cater to all your shower screen needs.  We have the standard essential range which is easy to clean, water resistant shower screen suitable for most bathrooms.  Designed with convenience, aesthetics, and performance in mind these shower screens and are most cost effective.  Our "Signature" shower screens add a modern, sleek finish to your bathroom or ensuite.   Southern Cross Windows Signature shower screens are made from strong, 6mm safety glass that's glazed to reduce mould and mildew.  Lastly our Frame less shower screen collection is Southern Cross Windows premium shower screen product.  It is modern, practical, and perfect for any stylish bathroom renovation on the Gold Coast.  These shower screens are made from superior strength glazed 10mm safety glass and with no mould-prone tracks or channels and no risk of corrosion or rust, they're easy to maintain.
We have plenty of options and multiple configurations so you're sure to find a shower screen to suit your bathroom needs.
We can Supply and Install a range of shower screen solutions doors for your home in any of the following styles, using local products:
Essential Shower Screens
Signature Shower Screens
Frameless Shower Screens
Whatever product or service your require, our team will go the extra mile to exceed your expectations and help provide the renovation you've been dreaming of.
Gold Coast's Shower Screen Experts