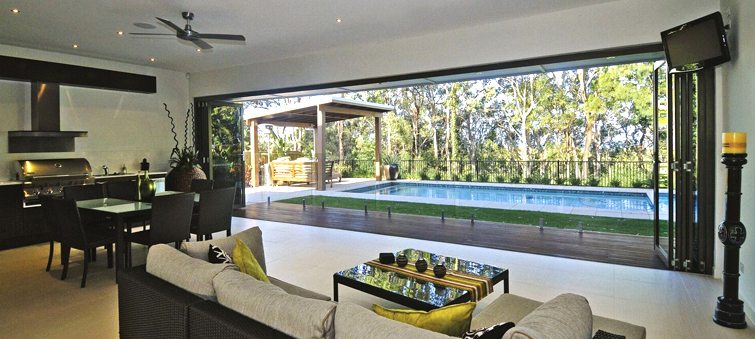 Are you renovating or looking to upgrade your doors on the Gold Coast? Southern Cross Windows takes pride in the manufacturing, supply and installation of our feature products: bi-fold doors.
These doors are comprised of a number of framed panels that are hinged together. The panels stack neatly against each other when the folding doors are opened, allowing unimpeded access as you go in and out.
Advantages of Bi-Fold Doors
Our large range of aluminium bi-fold doors offers a remarkable transformation for your home:
Natural light: These doors provide elegant and unobstructed exterior views while providing perfect ventilation and access to natural light.
Space and light management: Our versatile door designs make it easy to combine rooms in your home, allowing for a breezy entertainment space for those warm summer days.
Easy slide and stack action: These folding doors stack away to one or both sides. They're smooth and trouble-free to operate.
Easy to clean: Our outboard track system makes it easy to clean away sand or grit.
Locks and security: The access panel has a 4-point locking system so you can enjoy both style and security.
Colour choices: Available in a variety of colours.
Long life products: Powder-coated for better strength and durability.
Stacking options: Choose single or double side stacking with 2, 3 or 4 panels.
Entrances: An optional integrated single entry door provides convenience without compromising on the fantastic benefits of bi-fold doors.
Smooth action: The patented Torsional Blocking design allows for proper shape retention with no sticking and a smooth gliding action.
Door sizes: With a maximum height of 3100mm and a maximum width of 8000mm, our bi-fold doors can be manufactured to fit a wide range of openings.
Quality, friendly service can sometimes be hard to find, but here at Southern Cross Windows, we pride ourselves on our excellent customer service with every customer guaranteed the same standard of prompt, friendly and reliable service.
We stand by our promise to only use the best quality products and also have a proven track record in providing excellent after-sale service regarding the installation of our customer's products.
Bi-Fold Door Installation
We install doors for you, too. Our professional installation team will deliver a new bi-fold door for your home and install it exactly the way you want.
Ask our experts about installation, technical issues and getting the perfect doors for your home. If you're renovating or thinking of upgrading to our elegant and practical aluminium folding doors, contact us online. You can also call Southern Cross Windows on 07 5534 3300 for an obligation-free quote!