Fly Screen For Bifold Doors Gold Coast
Come To Us For Bi-Fold Screen
Solutions on the Gold Coast!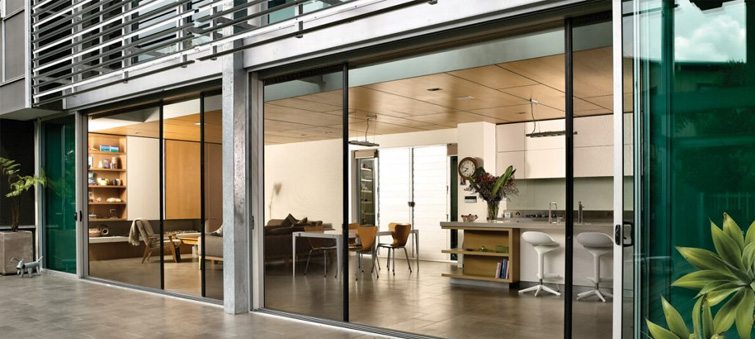 Do you love your bi-fold doors because of the great views and ventilation that they provide, but hate that time of the night when the mosquitoes start coming in?
Until recently, it's been difficult to find a screen that could cooperate with bi-folds. Now, Southern Cross Windows can offer you a bi-fold screen solution in the form of the revolutionary Centor S1E Eco-Screen!
About the Centor S1E Eco-Screen
The S1E Eco-ScreenTM from Centor provides eco-friendly retractable insect screening and solar control. With the thermal controls this eco-screen provides, you can even give your air conditioner a rest. This eco-screens user friendly design also means you have complete control over your living environment at home with just the touch of your finger!
The screen can be used individually or together, and it completely disappears horizontally into its frame when you're not using it.
Now you never have to compromise on style.
A Multi-Functional Bi-Fold Screen Solution
You have the option of picking either a sun filter or an insect screen for your home, but why would you when you can have both? Our multi-function screen offers a two-in-one screening solution. Control the sun intake in the morning and prevent insects from coming in at night.
In addition, you can choose between a see-through mesh screen or a white background screen that doubles as a projector screen. Have friends and family over to watch the footy from inside or outside!
Customer Satisfaction Guarantee
On openings up to 3.9m wide, an insect screen up to 3.2m high would be ideal. You could also choose a blind or multi-function system up to 2.45m high.
For openings wider than 3.9m and up to 7.6m wide choose one fabric only– either the insect screen up to 3.2m high or the blinds up to 2.45m high, for a double system.
If you'd like to learn more about the Centor S1E Eco-Screen, download the brochure now, or give Southern Cross Windows a call today to get an obligation-free quote on the supply and installation of your bi-fold window and door screen solutions on the Gold Coast.
Why do you need a fly screen for your bifold door?
If you want to make the most of the Australian weather without fear of flying insects entering your property, fly screens are the best of both worlds. While pre-made fly screens for standard doors are a popular choice for many, homes with bifold doors require a custom approach when it comes to high-performance fly screens that do the job.
At Southern Cross Windows, we specialise in creating bespoke bifold doors, specifically tailored to bifold doors for incredible effectiveness. If you're considering a fly screen for a recently installed bifold door, or you need a better fit on a long-standing door, we're the team to call. Get in touch today for a quote on our bifold door fly screens.
Great ventilation with excellent insect protection
Ventilation is essential for any Australian home, especially in the warmer months when hot air can become trapped inside. Fly screens offer a great way to bring the outside in without sacrificing your home comforts. No-one wants mosquitos, flies, or other insects in their home. Far more affordable than air conditioning, fly screens help you regulate the heat of your home naturally – saving energy bills and keeping every part of your property nice and cool.
Custom-made fly screens for your home
With bifold doors, a custom fit will always be the best fit. That's why we work with the best manufacturers to offer tailored bifold door screen solutions that are perfectly fit for purpose. With full retractability, these subtle screens are nothing like old-school, unwieldy designs, allowing you complete freedom when it comes to whether you want your fly screens in place or not at a moment's notice.
Why choose Southern Cross for fly screens for bifold doors?
Our expert team has vast experience in the installation of a wide range of doors and windows – and that expertise lends itself well to fly screens, too. We saw a need from our customers for great fly screens for bifold doors, and we created a solution that's more than up to the task of keeping your home bug-free. We take our customer's satisfaction seriously, and we only provide the best quality products in every service we offer.
Friendly, local service
Our local team can offer a complete install of your new fly screens as quickly as possible, finished to a professional standard. We'll work with you to find the best kind of fly screen for your specific needs, and we'll provide you with a range of options to make your final solution perfectly suited to your property. As a highly experienced and friendly team, we will always go above and beyond to provide our customers with the best service possible.
Get a quote for fly screens for bifold doors today
Do you need new fly screens for your bifold doors, or are you considering changing out your doors and buying fly screens at the same time? Get in touch with our team at Southern Cross today to get a quote for our services or to discuss any work you'd like done to the windows and doors on your home.