Bi-Fold Windows Gold Coast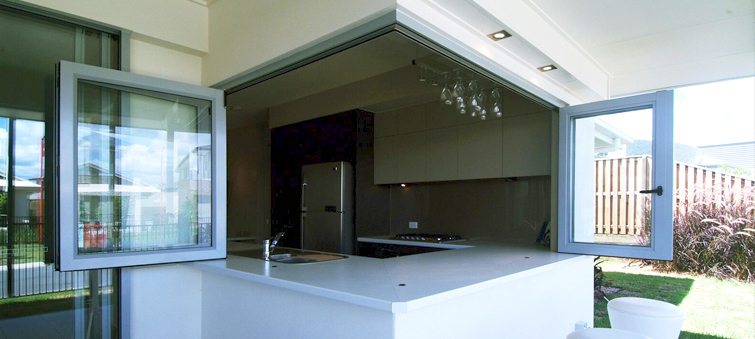 At Southern Cross Windows, we offer a full selection of the latest aluminium bi-fold windows on the Gold Coast. Bi-fold windows consist of a number of hinged-together framed panels that open in a concertina style.
Why Choose Aluminium Bi-Folds?
Aluminium bi-fold windows offer a range of design and functionality benefits compared to traditional panelled windows. What makes bi-fold windows special is their discrete ability to stack neatly on themselves when opened. This gives you a clear view outside and a great breeze, along with superb natural light without any obstructive beams or frames.
Our low-force sliding system makes the windows easy to operate. You can purchase them with fixed hinges and no visible screws for a clean finish that matches a traditional Queenslander or the latest modern home. Choose from a variety of powder-coated colours with impressive durability.
These aluminium windows don't need to be relegated to their traditional uses.
Although they are perfect for providing ventilation and scenic views, they can also be installed as servery windows connected to your kitchen. The large window sill can be used as a sort of breakfast bench or serving table, an incredibly useful feature for those who love outdoor dining.
You can also utilise them inside to maintain visibility while blocking out the noise.
We Supply and Install Gold Coast Bi-Fold Windows
Key Features of Bi Fold Windows
Stack to one side or both sides: Choose top hung or bottom rolling styles.
No sticking or frame pressure: Low force sliding system for easy operation.
Better security: Positive locking action for superior security.
Exterior look: Hinged fixings with no visible screws for a clean appearance.
Very low maintenance: Outboard track system for easy cleaning.
Quality standards: Tested to Australian standards.
Let Southern Cross Windows Install Your Bi-Fold Windows!
If you're looking for bi-fold windows on the Gold Coast, Southern Cross Windows can help!
To get a better idea of our product range, view our online gallery. Like what you see? Want to talk to someone window options?
Contact our team for an obligation-free quote and improve the look and feel of your modern home!