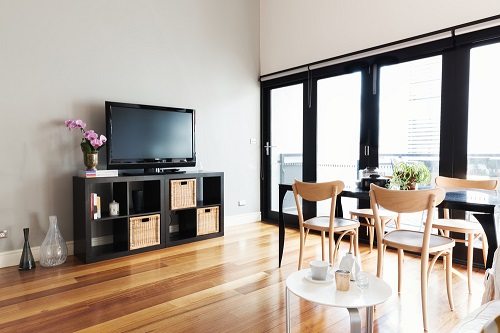 What Are Bi-Fold Doors?
Bi-fold doors function using a number of framed panels that are hinged together. They fold up against each other to offer simple movement between open and closed spaces while offering you easy access in and out.
What Are Stacker Doors?
Stacker doors are functional doors that operate using two panels that slide in behind a single fixed pane. As one panel slides past the next, they interlock and continue sliding towards the fixed pane. The panels effectively collect each other and then rest one upon the next, as if they were 'stacked'.
Benefits of Bi-Fold Doors
Elegant Transformation
Bi-fold doors are the perfect solution for creating a free-flowing entertainment space. They also provide unobstructed views, letting light into your home and offering great exterior views. The unrestricted ventilation and natural light that comes with bi-fold doors mean that the stifling heat of a Gold Coast summer, or the stuffiness of winter, are easily countered.
Out of Sight – Out of Mind
Bi-fold doors don't just operate easily – they're also smooth and discrete. In fact, when you fold your doors away to either side, you won't even know that they are there. With benefits when they're open and closed, you can enjoy your bi-fold doors at all times.
Benefits of Stacker Doors
Ambience
Aluminium stacker doors are an addition that will make you wonder how you ever lived before. Whether you have a traditional country home or a chic modern open plan, stacker doors are perfectly suited. Their precise, elegant, and streamlined design means they're visually adaptable to any setting.
Stacker doors gracefully open up or seal off spaces, meaning you can maintain the flow and feel of your home at every time of year. The high-quality seals are effective at keeping the elements at bay when you want to settle down in the winter months.
Stylish
Aluminium stacker doors boast a classically stylish design and they're just as practical, too. Whether you are connecting your living area to your outdoor entertaining area or keeping out the elements, all it takes is one simple push.
Features
There are two types of stacker doors, the Essential and the Signature. The Essential is specifically designed for domestic settings, while the Signature is prepared for specialised environments. They both possess a clean modern design with concealed fixings that perfectly compliment any architectural layout. The tastefully refined handles come with mortice locks for high-quality security.
Which Design Is Better For You?
The main difference between bi-fold and stacker doors is how they open and close. Bi-folding doors fold in on themselves, while stacker doors run along a track.
If you're short on space near the opening you plan to use, stacker doors are the better option. Their sliding mechanism takes up less space during opening and closing, making it easier to design your room.
If you're after a more open space once your doors are retracted, then bi-fold doors are the superior design. Once they are actually folded away, these doors are barely visible.
For an obligation-free quote, or any more information about either of these fantastic products, contact Southern Cross Windows today.
https://www.southerncrosswindows.com.au/wp-content/uploads/2017/04/Bifold-doors-vs-stacker-doors.jpg
333
500
Lyn
https://www.southerncrosswindows.com.au/wp-content/uploads/2017/05/Logo-300x231.png
Lyn
2016-11-15 00:00:14
2017-11-15 05:15:58
Bi-Fold vs Stacker Doors