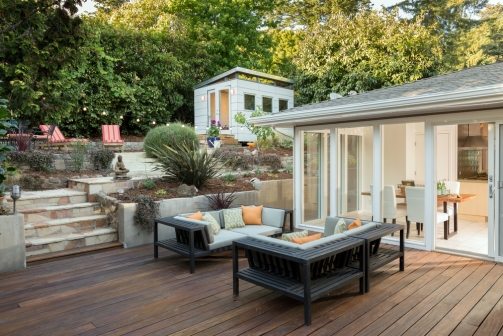 Making the most out of your outdoor living situation is truly something everyone should invest in, especially if you're a Gold Coast resident. If you live in one of the most beautiful places in the world, you should take the time to invest in a means of enjoying it every day.
There are many ways to make your patio a key feature of your home. Many homeowners will choose to update their patio with decorative stones or inviting seating arrangements. Perhaps they'll throw in a barbeque area and a proper dining room table, or put up a pergola laced with vines or flowers. Maybe they'll get creative with lighting.
One way that not many people consider is to get clever with the use of aluminium doors. Below we'll go over bi-fold doors and stacker doors, and how you can use them both to improve your patio life.
Bi-Fold Doors
Bi-fold doors consist of a few aluminium-framed panels that are hinged together. When they open, they are stacked against each other and then neatly arranged to one side or both sides of the doorway.
These doors are the perfect option to enhance your patio. First off, they are aesthetically pleasing, giving your home a classic look with the modern finish that comes with using aluminium. Secondly, they are also incredibly durable and able to stand up to the harshest Gold Coast weather while still maintaining their clean beauty and charm.
When it comes to patio living, you want to be able to move freely into and out of the house to bring out food and drinks as you please. Bi-fold doors allow this and more because they provide unobstructed access in and out when they are opened.
Stacker Doors
Stacker doors are similar to sliding glass doors, in that they do slide. Only they involve two or more connected panels that slide behind one fixed panel. As they open, they interlock and then slide together.
Like bi-folds, stacker doors give you an easy and efficient way to connect your house to your patio. These doors are a bit easier to install, and they can be made to your exact specifications because they are made of aluminium. They are perfect not only for when you want to connect the inside of your house to the patio, but also as a connection to a patio cover, giving you a link from the patio to the outside.
Their incredibly smooth track system makes using them a breeze, so they're perfect for a high traffic area like your beautiful patio.
For more advice about style, décor, supply or installation of aluminium doors, get in touch with one of our experts at Southern Cross Windows today.
https://www.southerncrosswindows.com.au/wp-content/uploads/2017/04/Doors-for-patios.jpg
336
503
Paul
https://www.southerncrosswindows.com.au/wp-content/uploads/2017/05/Logo.png
Paul
2016-05-19 00:53:35
2017-11-15 05:15:14
How To Make Your Patio a Feature of The House