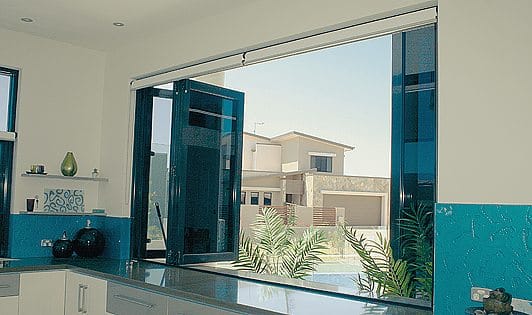 Here on the Gold Coast, bi-fold doors and windows are a very popular choice with homeowners.
Their design makes it easy to seamlessly combine a property's interior with the exterior, potentially doubling the size of living rooms and kitchens with no fuss.
While this is a stunning design feature to take advantage of the great outdoors and glorious Gold Coast weather, sturdy and well-fitted doors and windows will also withstand the worst the weather can throw at you depending on the season.
At Southern Cross Windows, we have both the products and experience to find the best bi-folds for any property.
Local Quality
At Southern Cross, we are a family owned and locally run business specialising in finding bi-fold window and door solutions for homes on the Gold Coast.
We have many years of experience in the industry, and offer custom bi-fold doors and windows manufactured and fitted by our own expert team.
By carefully listening to our customers needs, we understand your requirements from the outset of your renovation.
Replacing existing windows and doors is not something to be done hastily, and we appreciate you may be hesitant to take on a large job like replacing all of your windows and or doors.
Because we look after you from design specifications to installation and include efficient after-care, we provide the most comprehensive window and door replacement service.
This is also the most efficient way of doing things, so we are able to keep our costs to a minimum, while providing, installing and maintaining the highest quality bi-fold doors and windows.
Great Options
We offer a bespoke range of window and door sizes based on your needs.
Whether you are building from scratch and have your own design ideas, or are replacing old frames and units, we will advise on a huge range of options.
As well as bi-fold doors, we make and fit hinged, sliding and stacker doors to complement them.
By combining bi-fold windows and doors with some of the other options, you can make your living space feel much more open and free of obstacles and clutter.
For families with young or older members who need room to move about easily, bi-fold windows and doors can make the difference between staying in your current property or trying to buy bigger.
By helping you explore your options, we at Southern Cross will let you get a clearer idea of what you can achieve in your current property.
All our window and door units are made to the highest safety standards, and resist accidental breakage or deliberate break in attempts.
As we manufacture and fit our products to the highest design standards, we also offer your home added security features.
With our superb quality windows and doors, your home will not only look and feel great, but will increase in value quite noticeably.
Find Out More
For more information, or just a chat about our bi-fold doors and windows, contact us at Southern Cross Windows. You can also call us at 07 5534 3300.
You may find our previous post 'Whats The Best Sound Rating Glass On The Gold Coast?' of interest to you:
https://www.southerncrosswindows.com.au/wp-content/uploads/2017/04/bifold_windows_07.jpg
315
532
LocalWeb
https://www.southerncrosswindows.com.au/wp-content/uploads/2017/05/Logo-300x231.png
LocalWeb
2018-05-11 04:39:20
2018-05-11 04:44:26
Best Quality Bi-Fold Windows On The Gold Coast