Making over your windows is an easy way to breathe new life and a fresh new look into your home. Updating the style of your windows can be as easy as installing new window dressings and treatments in stylish new trends or classic, sleek aluminium products. The days of heavily draped windows, tab curtains and gathered valances have given way to dressings of simplicity and understated style. With an emphasis on crisp, clean lines, the focus for windows is once again creating the flow of natural light and space in and around the home.
Curtains
Printed curtains are making a huge comeback in home décor, but don't panic — they're not the same nauseating patterns that were popular back in the eighties. Recent designs have been pared back to subtly add colour and character to any room. Current curtain trends include geometric patterns, trellis designs, large-scale florals and single, bold block colours. Even sheer curtains are once again having their moment in current home design, thankfully minus the frills and lace that were once the go-to choice for everyone's grandmas back in the day. If you're not yet convinced about statement curtains, perhaps ease yourself in by choosing curtains or drapes with a stripe print, as stripes tend to never go out of style.
A clever trick to add classic romance to your bedroom or visual width to living room windows is by mounting drapes that rest beyond the window frame. Drapes that are longer and wider than the windows themselves make your windows appear larger in scale. Using luxurious materials like velvet and silk add to the decadence of this look.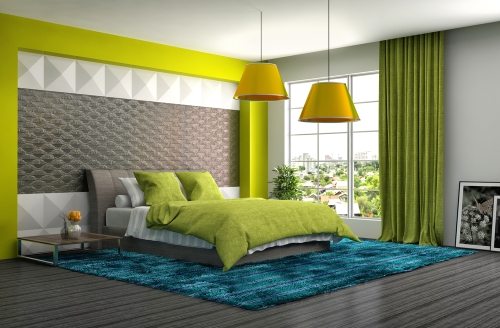 Casement Windows and Shutters
For a coastal feel (or to complement your coastal home, Queenslanders), opt to install casement windows. Designed for extreme weather conditions, their stainless steel fastenings minimise corrosion whilst opening your home up to the outdoors. Casement windows subtly bring attention to the windows with their traditional appearance, whilst also providing ventilation. Also traditional in appearance, window shutters are one of the easiest and most cost effective ways to improve your home, as there are endless ways to customise them to perfectly suit your style and decor.
Go Natural
Add a fresh, natural feel to your living space by incorporating natural materials, textures and colours in your window dressings. Bring the outdoors a little further indoors with organic materials like wood, grasses, bamboo and reeds. Bamboo blinds, for example, are stylish and made to shade indoors. The subtle imperfections in these materials have a natural, simple beauty.
Bi-fold Windows
Increase natural light, ventilation and provide unobstructed views by installing aluminium bi-fold windows. They can be used to create a moving glass wall, opening the interior of your home to the outdoors. The innovative designs of bi-fold windows make them ideal for updating and creating defined entertainment areas. With fixed hinges and no visible screws, bi-fold windows can ensure a flush appearance that blends into an existing home design. Aluminium bi-fold windows are powder-coated for better durability and are available in a wide range of colours.
Get In Touch
Speak to an expert at Southern Cross Windows today for more advice and window makeover ideas. Contact us today.
https://www.southerncrosswindows.com.au/wp-content/uploads/2017/04/Makeover-your-home-windows.jpg
328
500
Paul
https://www.southerncrosswindows.com.au/wp-content/uploads/2017/05/Logo.png
Paul
2015-11-19 02:51:24
2017-11-15 05:21:15
Easy Window Makeover Ideas