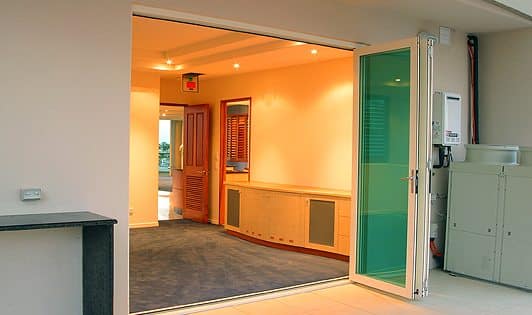 For many homeowners, one of the biggest concerns that constantly arises in both design and decor is trying to the most you can with the space that you have.
Unless you build extension upon extension, you are only going to have so much room to work with, but here at Southern Cross Windows we think that we might have a trick that will be helpful to many people out there experiencing this problem.
The answer is bi fold doors! Bi fold doors on the Gold Coast are becoming more and more popular with each new set of home trends, and there are plenty of great reasons why that is the case.
If you are still on the fence about whether to fully commit, here are just a few of the ways that your living space can be enhanced with bi fold doors.
Any room that gets to have floor to ceiling glass door panels in it is automatically going to benefit from enhanced light. When a room is lighter, it can feel much larger, so not only are you getting a great view of the outdoors, you are also getting an optical illusion that makes your living space much larger and much lighter.
There is no doubting that bi fold doors are the way to go if you have style and aesthetic in mind. Nothing looks better than a sleek set of floor to ceiling doors that can be adapted in any way you wish. There is a reason why they are the doors of choice for all luxury properties across the world!
Traditional door and windows are stuck in one place with only one type of job, either open or shut. With bi fold doors, though, there are many more options that you can enjoy in how you position your doors to let the light and climate in at any given time. On hot days you can have a completely open and airy area, and on cool evenings you can shut up or leave open as much as you like. You have much more control with bi fold doors.
So, if those reasons have finally made up your mind, then please don't hesitate to get in touch with us to arrange an appointment. We will be more than happy to discuss all of the different options that are available to you, answering all and any questions as we go through the process.
View our previous blog For creative ways to use Bi Fold Doors in the home!
https://www.southerncrosswindows.com.au/wp-content/uploads/2017/04/bifold_doors_06.jpg
315
532
LocalWeb
https://www.southerncrosswindows.com.au/wp-content/uploads/2017/05/Logo-300x231.png
LocalWeb
2019-10-03 04:25:01
2019-10-03 04:25:01
Enhancing Spaces with Bi Fold Doors