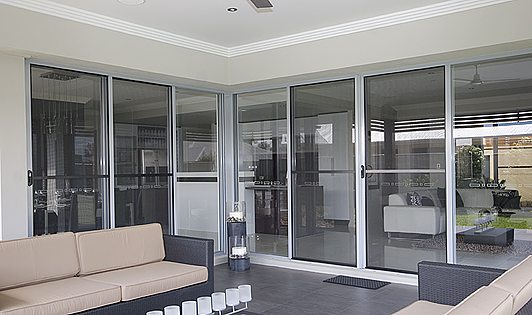 Are you thinking of replacing those tired and draughty old wooden doors and windows around your property?
Maybe you are considering changing to aluminium windows and doors instead. Switching to aluminium is an excellent choice due to the latest trends in the aluminium window and doors business.
It is an extremely effective choice and very hard to beat in efficiency and upkeep.
This is where we, at Southern Cross Glass Windows and Doors, can help you.
Customising to your style
People were once shy of installing all aluminium windows and doors throughout their home because they thought they only came in one style and colour.
Luckily for the homeowner, the industry has made great strides in being able to customise the colour and style of aluminium doors and windows, so they can be tailored to complement the existing décor.
Colours now range from light to dark and most colours in between due to the use of powder coatings, which are applied to the aluminium frame then bond with the metal to form a hard-wearing surface.
As for style: from Casement and sliding to louvre and double hanging, our qualified team can customise the frames to fit your existing areas.
Improved Energy Saving and Security
The biggest bonus of changing to aluminium windows and doors on your property is the very nature of how they are manufactured and fitted. Aluminium products already have many features built in, which you won't find with more traditional wooden products. These types of doors and windows have full locking options, excellent seals and wide solid frames to prevent warping and gaps, therefore ensuring a tight and secure fit to help safeguard occupants from both the elements and homes intruders.
New Thinking and Styling
With the trends and changes in window fittings for modern properties, the aluminium windows and doors trade has come up with some of the most innovative choices to improve both the look and functionality of your home. Australia's agreeable climate has lead to many changes in styles for windows and doors, with many people now wanting to open their homes to increase their living spaces.
The Australian weather is suitable for bringing the outside in, making bi-folding doors a popular option to improve the flow of your interiors to your outside space.
If you want a better flow of air through a room, louvre windows offer a breezier effect.
A great way to lighten a dull-lit hallway is to remove the solid timber door and install a door with glass panels, along with double-glazed vertical sidelight windows to allow in more light .
All these options can of course be achieved quite easily when working with aluminium windows and doors and give a whole new aspect and value to your property.
The choices are endless.
Contact our experienced team to refresh those old doors and windows, and give you a whole new look for your home.
Our aluminium products come with the peace of mind of enhanced security and low maintenance.
For expert advice on the design and installation of your new aluminium doors and windows, don't hesitate to contact Southern Cross Glass Doors and Windows on the Gold Coast.
We have a large range of frame colours and glass tints available.
You might also find the following article of interest to help save on power bills over summer:
https://www.southerncrosswindows.com.au/wp-content/uploads/2017/04/sliding_doors_06.jpg
315
532
Lyn
https://www.southerncrosswindows.com.au/wp-content/uploads/2017/05/Logo-300x231.png
Lyn
2018-02-08 04:42:46
2018-02-18 22:43:44
The latest trends in aluminium windows and doors