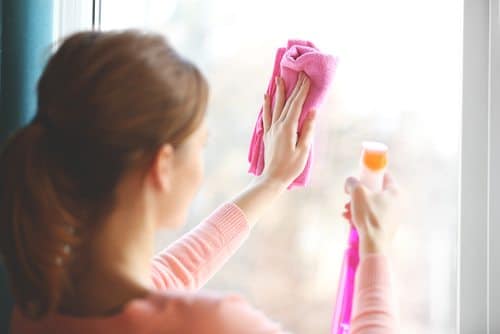 Glass doors and windows elegantly frame the views of your outdoor surroundings and let beautiful, natural light into your home – that is; they do when they're clean. So how do you properly clean glass windows and doors without leaving behind nasty streaks and lint? What products should you use to achieve the best shine? And how often should you be cleaning them? We've compiled our best glass window and door cleaning tips to help you get the most out of your glass at home.
Where do I start?
Before washing glass windows and doors, thoroughly vacuum the sill and frames with the brush attachment to remove any spider webs or other debris. When cleaning a glass door or window, you should always begin at the top of the pane and continue downwards. This will minimise the likelihood of leaving cleaning residue on the lower levels of the glass.
What should I use?
For the best results when cleaning glass, natural solutions provide a better finish and are less damaging both to the glass and the environment. Try using a homemade mix of either 1 part vinegar to 10 parts clean water or 1 part isopropyl (rubbing) alcohol to 1 part clean water. Drench the glass with clean water first to remove surface dirt, and then spray one of these solutions all over the glass. Once you've done this, dry the glass with a lint-free microfibre cloth. Don't use paper towel as this will leave lint behind.
Cleaning Sliding or Stacker Doors
Sliding and slacker doors may become difficult to open if their tracks accumulate a lot of dirt and debris. Luckily, our tracks can be easily vacuumed to clean out any dirt. Avoid scraping the tracks with sharp objects such as screwdrivers, as this can remove the powder coating and damage your doors.
How Often Should I Clean?
If your home or property is in a rural or suburban environment, cleaning should take place at least every 6 months. If you reside in a coastal or industrial area, more frequent cleaning is necessary. The maximum period between cleaning here should be no more than 3 months. For areas that receive extreme weather conditions, monthly cleaning is necessary and highly recommended to prevent deterioration.
Things To Remember
Many people are unaware that improperly cleaning their glass window and doors can permanently damage the surface of glazing products. Glass should only be cleaned when it is cool to the touch and should never be cleaned whilst in direct sunlight as it causes the cleaning solution to dry before you wipe it off, leaving you with unsightly streaks. Also, don't even think about using newspaper. Despite what you've heard in the past, the latex-based inks in today's newspapers will probably leave you with a streaky mess. If you need more advice on taking care of your glass windows or doors, call the experts at Southern Cross Windows on 07 5610 5293.
https://www.southerncrosswindows.com.au/wp-content/uploads/2017/04/shutterstock_407287375.jpg
334
500
Paul
https://www.southerncrosswindows.com.au/wp-content/uploads/2017/05/Logo.png
Paul
2016-01-19 01:15:49
2017-11-15 05:20:58
Top Glass Window Cleaning Tips